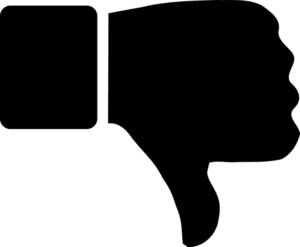 It happens to all small business service providers if you've been in business long enough. You meet with a potential client. She needs a fill-in-the-blank-with-what-you-offer and wants you to quote on it. In our case – a new website.
You go back to the office, review your meeting notes and consult with your partners. Something feels off. You might not be able to put your finger on it but you have a bad feeling about this potential project. Maybe the person you met with was argumentative, negative or challenging. Or it could be just one of those gut things.
What do you do?
Don't do this: We NEED the Business.
First of all, how badly do you need this business? Enough to put yourself through a month or two of misery? Because that's what you might be getting into.
It's one thing when your business is new and you need all the work you can get. You might overlook the danger signs and figure it will be fine once the project starts. Or just accept the stress as part of launching a new business. We get it. We've been there.
But after you've been established for a while, will you do the same?
Do THIS!
If you've been in a caustic relationship a few times, odds are you won't be eager to say yes. Unless you really need the income, it boils down to a simple decision: are you willing to subject yourself to a difficult and stressful situation? Or would you be better off saying "Sorry, we don't feel we can help you" and moving on?
We had this happen a few weeks ago. A potential client approached us to build a website. She seemed nice enough. We gave her a proposal. She called to say our quote was too high and asked us to drop our fee. Then she wanted to know how many hits we could guarantee to the site we would build for her.
After a brief company discussion, we declined the job.
Not because of her problem with our fee. We understand that not everyone can pay what we charge for a website. Even though our fees are well within the reasonable range for small business website development, not all small businesses have marketing budgets. We get it. It was the "give us a guarantee" ask that turned us off.
Google and Facebook ads have changed organic search. Now there are many variables and active competition for those 4 or 5 first page queries. Search positioning is still related to how well your site is written and the organic use of keywords, but we will not offer a guarantee.
We will, however, advise you on things you can do to help your website work for you. For example….
using social media to promote your site
adding new content reflecting changing keyword usage
staying on top of what you competitors are doing (are they advertising and if so, where?).
And if you want to ramp things up, we can connect you with folks who'll help you run Google ad campaigns to keep you visible in search results for targeted terms.
The Upside of Saying No
So if your gut is telling you this might not be a great client for you, listen. Something else will come along. It usually does. In our case, a few days later, we met with a really nice client whose new website we are happily designing.
To read more on working with dysfunctional people, here's a great blog post by Daphne Gray-Grant about dealing with difficult editors. Pretty much applies to difficult clients as well.