It happens often. We meet with a business owner who's struggling to build sales but won't commit….or hasn't set aside…. any money for marketing.
How does that work, you ask? Well, it doesn't.
Our main business is building websites. But we approach web design and development with a marketing mindset because our team has a marketing background.
So before we start building anything, we sit down and talk to you about goals for your business and what you want your new site to accomplish. We're building a big beautiful online marketing tool for you. It just happens to be called a website.
For people to find your website, a few things need to happen:
It needs to be optimized for search (SEO) so that Google brings your site up when someone searches for your product or service.
You also need to send people to your site.
You can do this through social media, advertising (print or digital or both), PR, flyers, brochures or handouts, newsletters, emails, direct mail (like postcards), signage, premiums, business cards that you pass out at networking events, etc.
All of the suggestions in item #2 fall under the marketing umbrella. It's what drives your business and builds your sales. No marketing = not much business.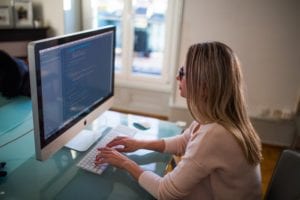 So back to the "no money for marketing" scenarios.
A few examples stand out. One was a man who hired us to build a website for a small gym he had purchased and was renovating. His target market was personal trainers who would use the gym to work with private clients or people who weren't comfortable at a big gym but needed some sort of coaching. That idea sounded solid and well thought out.
We built a drop dead gorgeous site (OK, so we're a little biased). But it was sleek and sexy and did everything it was supposed to do. It was easy for visitors to get the info they needed and the messaging was clear and concise.
This was not your one-size-fits-all super gym. It was a small facility — a former house with a beautiful river view, where you could train relatively privately, and then go out in the back yard to relax after your workout. We loved the whole concept. This gym was a little gem.
Until the business model changed.
Classes were added, a few at first, then a lot. Yoga and bar work and meditation. Then floor work and Zumba. Now the "small gym for serious workouts" took on a "me too" slant. Fearing he was missing out on another market (women), the owner modified the original positioning.
Bad move.
Not only were there a bunch of hot new boutique-y gyms in the area, but the larger gyms like FFC, CrossTown Fitness and Equinox were doing great marketing and had huge name recognition. Not to mention swimming pools, running tracks and lots of classes at convenient times.
Our client had not allocated any money for marketing. There was no money for signage which made it difficult to find the place. There was no money for social media (he attempted to do some himself but since he had no idea about how social media worked, that never went anywhere). There was no money for publicity or promotions of any kind. 7 months after we completed the website, he sold the business.
We were bummed because we couldn't show this gorgeous site in our portfolio. But the client was happy to get out without losing his total investment.
We hate to see this happen. Our goal with each project is to give clients a solid marketing tool that will help grow their business. Seeing a client fail makes us sad.
We use examples like this when talking to new business owners to make sure they're budgeting wisely and not putting the proverbial "all their eggs in one basket". Your website can be the most important marketing tool in your arsenal. But don't let it be the only one.
SEO competition gets tougher every day. Unless you're able to do considerable digital advertising (as in spending big bucks), you need to stand out any way you can. Good marketing can always help you stand out.
If you've got marketing chops and can handle it on your own, run with it. If not, make sure there's money set aside to hire the experts you need.
Leave a comment