If you collect information from people who visit your website — email addresses, passwords, credit cards – please take a few minutes to read this post.
Google Chrome is about to make some critical algorithm changes that could impact your business.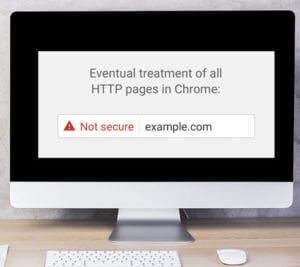 The upcoming Chrome release –expected around the end of the month — will label website pages that collect credit cards or passwords, but are not using SSL (Secure Sockets Layer) as "not secure". This is not something you want visitors to your website to see!
Not sure what SSL is?
See a clear explanation of SSL here.
Pull up your website and check the location bar at the top of your browser window. If your website address starts with "https", your site is secure. Google will love you…. or at least like you a lot.
If your site starts with "HTTP" (no "S"), your site is not secure and Google will label it as such.
If you collect passwords or credit card info, you need to get that fixed asap! You don't want to run the risk of a potential new customer coming to your site and being scared off because it's labeled not secure. It's much wiser to get it fixed before there's a problem.
Eventually, all sites will need to be SSL because Google will favor HTTPS pages over HTTP. If you're concerned with Google ranking (and who isn't?), you want a secure site whether you collect any information or not.
Check with your website hosting provider to learn how to set up SSL for your site. Some providers offer it free. Others charge a fee.
We recommend hosts that provide free SSL encryption from LetsEncrypt as part of their basic package.
If your site does not currently use SSL encryption, we can handle that for you. The costs will vary, depending on where your site is hosted. Give us a call or shoot us an email for a quote.
And yes, we're secure! ;)
Leave a comment