Networking has always been at the top of our marketing list for building business. It doesn't require much of an investment, other than time.
For small businesses, it's a great way to meet fellow entrepreneurs. Getting out and talking to people who might have a need for your product or service. Or….just as important….who know other people who might need your help.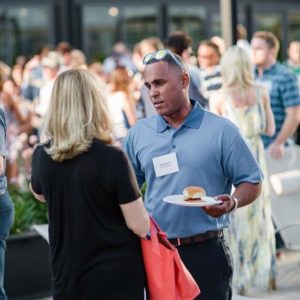 How many times have you been to a networking event where you were casually engaged in a conversation that led to a really interesting discussion — one you wanted to continue? It might not even be that this person needed your service. Maybe you just really clicked.
Networking events offer a limited time to connect with someone other than superficially. At a 2 hr event, if you want to meet more than 1 or 2 people, your chat time is limited.
So, your next step should be to tell the person you're speaking with that you'd like to continue your conversation over coffee or lunch. Set a date or exchange contact info to do it at a later time. Then move on to meeting some other people in the room.
When Networking Works
I've met some dynamite people at events where casual conversation led to collegial friendships. No one was selling. We were just talking about business challenges or sports or hobbies….in no particular order. In the course of conversation, we found that we really liked talking to each other. Cards were exchanged and within a few weeks, we met over breakfast so we could get to know one another better.
Not all of these encounters led to new business. Some introduced me to colleagues who did what I do. A writer comes to mind. I keep her contact info so I can refer her business I can't or don't want to do. I'm always happy to refer business to others which is why I like having a full network.
I've also met some really outstanding people who've become close business associates. We refer business to one another and support each other as much as we can. Sharing job leads. Introducing colleagues to friends where there might be potential work. Contributing to the local networking community.
If you look at networking as getting to know people, the process often becomes organic. You're focused on learning about someone and not selling them something. You're being authentic rather than trying to impress the other person.
Watch the Skilled Networkers
The best networkers are not selling. You've seen the hard-sell types. They have trouble holding eye contact because they're looking around for someone better to talk at (not a typo).
On the other hand, those people who are genuinely engaged in the conversation you're having are the type of networkers you want to connect with.
Think about the most successful networkers you know. Odds are they're super nice, always willing to answer questions and, once they know you and your reputation, happy to refer business to you.
If you're new to networking or not comfortable in the "how to", read this Lifehack post on helpful networking tips.
The upside: while you're growing your business, you'll be building relationships. That's how What A Great Website came to be. We met in a networking group eight years ago. We liked one another and started doing projects together. Three years later, we started a company. You never know where networking can take you.
For more networking help, here's an article I wrote back a while back called The Nuances of Networking. 
Note: despite the crossed out title above, the link works.
It still applies today.