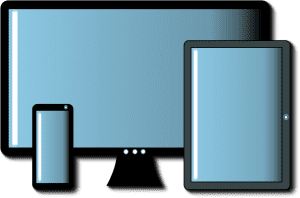 We've always preached that good content is good SEO*, and good SEO gets good SERP**.  That's true, but there's now a new wrinkle.  Google cares whether your website is "mobile ready".  All things being equal, a mobile ready site will be placed above one that's not on the search results page.
What does mobile ready mean?  We'll talk about that a bit more below. First, get a yes or no answer from Google:
Is your site Mobile Friendly according to Google
Mobile Friendly means that your site reformats itself for mobile devices.  Take your mouse and grab the right edge of your browser and make it narrower. Watch what happens. You'll see the menu changes from a "tabbed" bar to a button and dropdown. The sidebar moves from the side to below the content (and becomes full-width). The logo moves a bit to accommodate the moving parts. This is known as a responsive site. It responds to device width. Basically, mobile friendly means that your site looks good on a device of any width.
How do you get your site to be mobile friendly?  To some degree, it depends on the coding of the site's theme, although many sites can see significant improvement through changes in the theme's style sheets.  Contact us to find out what's required to make your site responsive.
* Search Engine Optimization
** Search Engine Results Page
Leave a comment