At least once a month, we get a frantic query from someone with a website they can't update. Their web designer or developer is AWOL They don't know how…. can't remember…never learned how to manage their site. So it's basically useless.
Can we help?
Unfortunately, the answer is almost always no. We can't do anything with a proprietary program. All we can do is offer to build a new site on an open source platform (like WordPress) so they don't ever have this issue again.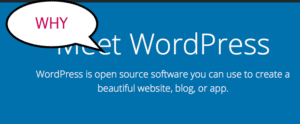 According to WordPress, there are currently 51,494 WordPress plugins.
There are plugins for every functionality your website requires — content management, link checkers, SEO, blogs, calendars, memberships, forms, image compression, spam, and security…to name a few. Lots are free; others are very inexpensive.
That alone might be reason enough for us to be huge WordPress fans. But there's more.
Robust. Secure. Powerful.
We love that WordPress is an industry-standard, powerful open source platform that offers frequent feature-rich updates and expandability. And that it's robust and secure in a hack-and-spam-crazy world. And that it's supported by a huge and active developer community that help one another troubleshoot issues. So if you have a problem with something special you're trying to do, there are plenty of people to help you solve it.
But the A Number 1 reason?
WordPress meets a huge criteria of ours – usability. Quite simply, WordPress makes our clients' lives easier.
Not Just A Website
Almost all the websites we build are on the WordPress platform. Because we're not just building a website for your business — we're developing what is probably the most important tool in your marketing toolbox. The face of your business. Open to the world round-the-clock. Accessible to anyone looking for the type of products or services you offer.
When you're busy running a business, keeping your website current may not be high on your list of "must do's". But it might be the difference between making a sale or losing out to a competitor whose website is fresh and compelling.
No Techie – No Problem
With WordPress, you don't need to be a techie to make updates and add new content. Got a hot new product you need to feature on a new page? Simple. Need to add some sweet testimonials to drive new business? Couple of minutes.
WordPress offers an intuitive CMS (content management system) with a short, sweet learning curve. Unabashed sales pitch: training is always included as part of our website development packages.
Generally, an hour of one-on-one is all that's needed to get you up and running. It's THAT user-friendly. But we stick around to help you out if you need a little extra support.
WordPress Around the World
Think it's just smaller companies using WordPress? Think again. A few of the big brands with WordPress sites:
Facebook
Disney
Sony
Bloomberg
The New Yorker
TechCrunch
CNN
BBC America
The New York Times
Microsoft News Center
Beyonce
Star Wars
TED
So next time you're in the market for a new website, find a developer who builds on WordPress. We promise it will make your life a whole lot easier.
Leave a comment