It's tempting. You're a startup with tight (or no) funds. You don't want to spend any money unless it's absolutely necessary. You see all the DIY website promos and figure "how hard can it be?" Looks like a no-brainer. So you opt for WIX or some other development program and build your own website. For free. Over a weekend. An entire weekend!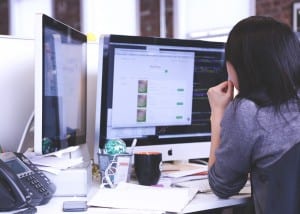 You launch your website. But no one comes.
Hmmm. What went wrong?
Your first mistake was to assume you could do something on the fly. Web developers  and designers are generally highly trained. They're schooled and skilled in writing code, designing layouts, font and color selection, navigation, and UX. And if you hire a web development team, there's a copywriter or content creator on board to make you sound as good as you look. And likely an SEO expert so that your website comes up when people search for a keyword  or phrase that's incorporated into your copy.
Oops. You probably didn't consider that when you opted for DIY.
So before you waste a lot of time and commit to a drag and drop website, ask yourself these 6 quick questions:
Do you have the time to learn how to build an effective website or should you use that time to build your business?
Do you have a solid grasp of marketing and a clear picture of how your potential clients use websites?
Can you write compelling copy and calls-to-action?
Do you understand UX and how people will navigate your website?
Do you know how to use color and custom fonts to build your brand?
What will you do if you waste spend 10-20 hours "building" a site that you can't use?
If you answered "yes" in 1-5, you might have the skills necessary to build your own site. If not, call someone who builds websites for a living.
Your business needs a website that works. Save money somewhere else.