Updated March 10, 2023
2-minute read
Whether you're a shop owner or a service provider, your customer care will influence how clients feel about you and your products. And those feelings will impact future sales — including whether or not there will BE any.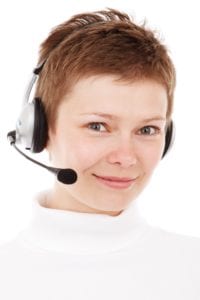 We seem to remember the best and worst customer service experiences. For instance, if you go into a store and can't find a salesperson, odds are you'll be frustrated. You'll probably leave without buying anything.
But when you're warmly greeted by a smiling salesperson, you're likely to linger and browse around. The more you browse, the more you'll discover. And the more likely you'll be to make a purchase…..or two.
We tend to be forgiving — even if we can't find something we wanted — when we receive good customer service. The fact that we've been acknowledged says "they give a damn". And that feeling is key.
As more and more products and services are discovered and consumed online, face-to-face communication happens less and less. This makes building relationships difficult. The personal touch is gone….replaced by bots and apps.
How to build relationships with customers you've never met.
Without a brick & mortar location,  how do retailers build relationships with customers they've never met….and never will?
Simple, actually. It's all about communication and customer care.
New Orleans restauranteur, Ella Brennan, who ran the famous (and fabulous) Commander's Palace, was the queen of customer care. Reminiscing on her death, her executive chef said "she understood that business is about how you feel when you walk into a restaurant. You may not recall the quail or the Chardonnay, but you remember a feeling a restaurant gives you."
A savvy business woman, Brennan made sure her staff provided outstanding customer service. If a customer complained, she responded immediately.
She understood customer care, and she will be remembered for making French dining accessible and fun. (Source: Wall Street Journal, June 19, 2018) 
Smart companies know that  poor customer service can kill a deal….and worse, go viral….quickly spreading the word that you're a lousy company to do business with. Social media and business rating apps like Yelp make it imperative for companies to stay on their toes. Constantly. Because reputations can be sullied in a heartbeat.
Case in point: Starbucks. Wonder how much business they lost a few years back after arresting two black men who asked to use the bathroom while they were waiting for a meeting but didn't buy any coffee. It hit national news immediately and became a full-blown nasty stain on the Starbucks brand.
To deal with the fallout, all locations were closed for mandatory 1/2 day training. For all employees. Stores with closed doors can't do business, so this was a costly error for Starbucks.
Poor treatment isn't easily forgiven. Odds are when you think of Starbucks, the racial incident will be top of mind for a long time to come. And all because of the ineptitude of one employee.
How much smarter to make customer care an integral and ongoing part of employee training. It may determine whether you succeed in business or fail.
Read more about customer care and delivering a great customer experience.
How to deliver a remarkable customer experience.
5 traits that successful businesses use to engage customers.